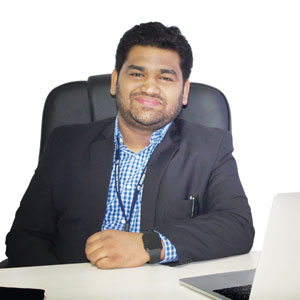 Pankaj Kumar, CEO
A vision that comprehends customers' needs can never go in vain. That's the reason when MSEWA set sail, it had all the prospects on its side to grow and succeed. Describing the company's vision that marked MSEWA's commencement, Pankaj Kumar, the company's CEO says, "The idea is to use one mobile wallet across the globe like one uses credit card." It was even before debuting in his entrepreneurial venture to find a Singapore-based Mobile Financial Services company, the idea of money transfer through mobile application across India struck Kumar. India is clearly moving steadily towards a cashless economy with the advent of smartphones and affordable internet. In such a scenario, Indian Central Government's decision to demonetize 500 and 1000 currency notes emanated a clear class of winners—start-ups offering e-wallets and digital payment gateways. Having foreseen the vastness of opportunity across this vertical, in 2014, MSEWA commenced in the market with the commitment to create unified payment solutions for trusted Indian Banks.
Despite the surge in innovative payment technologies, a decent percentage of consumers remain reluctant to completely embrace e-wallets owing to nascent security infrastructure. To fill the void, MSEWA, since inception, has been focused towards designing the safest and compliant ecosystems for their digital payment platform. "We have developed and integrated the platform with highly compliant remittance engine allowing customers to travel overseas and use one mobile app for payments," ensures Kumar, the mastermind behind creating the benchmark digital payment portal of MSEWA. Being built on three tier architecture, MSEWA's Digital Payment Platform, with varied validations, security checks, KYC compliances, not only ensures customer-data privacy but also makes transactions secured and compliant.
We want to help the world to move towards a cashless economy where users can make payments seamlessly and conveniently
The platform has also been run through multiple VAPT assessments followed by thorough technical audits to make sure that system is secured.
VPayQwik, MSEWA's Digital Wallet along with Vijaya Bank, is a one-stop payment solution providing bill payments, air ticketing, car rentals, healthcare, toll payment, fund transfer to a mobile, bank transfer, and many more facilities. Aiming to be at the forefront of the Government Bank wallet sector, VPayQwik serves its customers with mobile payment facilities on the go, globally, enabling them to transfer funds through their mobile phones. The VPayQwik platform has the Bharat QR— a NPCI initiative to connect every digital wallet into one account using a single QR code— directly integrated into its system. Alongside, being capable of accepting payments through biometric devices, MSEWA's Digital Wallet and Payment Platform is also equipped with a unique Chat Bot feature to allow users to chat while performing transactions.
High-end safety compliances and security firewall of MSEWA's Digital Payment Platform constitute as a hallmark attribute in serving MSEWA's global client base spanning across Bangladesh, Colombia, Nigeria, Nepal, and India. Notable Government Banks of India that boasts of multi-million active account holders, deploy MSEWA's e-wallet to leverage the organization's mobile banking services and consequently generate revenue for the Bank. The company has also associated with leading mobile handset manufacturers as their wallet partners. MSEWA's Digital Wallet will now be pre-installed on their phones, easing the need for a payment solution for their customers.
Aspiring to exploit the higher number of mobile-banking penetration and equally high unbanked economy, MSEWA looks forward to incorporating more farsighted technologies towards the expansion of their mobile payment platform. The company also looks forward to launch the world's first Multi Currency Wallet in order to move towards a future where customers can use their fingerprints or retina scan to make payments. Looking up to the stairways of his dreams, Kumar concludes, "We want to help the world to move towards a cashless economy where users can make payments seamlessly and conveniently."