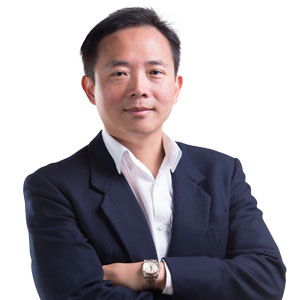 Robertson Chiang, Co-Founder, COO & CTO
While credit cards claim the lion's share of all transactions, there is a major fraction of the developing world that is still pulling out a wad of cash to make payments. The Philippines bears out to be one of them. Given the low penetration of credit cards and online banking solutions in the Philippines, the marketplace continues to remain cash dominated. However, considering today's world of progressive dematerialization and globally interconnected financial dynamics, alternative payment methods are becoming increasingly important. Although companies in the Philippines are aware of the benefits associated with online banking, Robertson Chiang, a veteran business strategist and the co-founder, COO and CTO of Dragonpay, notes that most of those companies that are striving to fulfill the vision of a cashless society are far from ready. This is where Dragonpay's pioneering vision and technical innovation serves to redefine the Philippines' payments market. "We have built a system that assists companies to take a step closer to alternative payment methods," says Robertson.
Dragonpay offers an armful of online payment solutions ranging from credit cards to online banking, e-wallets, mobile payments, and international remittances. "With our payment solutions, organizations can accept one-off as well as recurring payments from various sources, such as credit cards or enrolled bank accounts from different commercial banks," says Colleen Chiang, president of Dragonpay. Prior to Dragonpay, the only way organizations could facilitate recurring payments was by maintaining a relationship with each bank individually, and integrating with their proprietary systems. However, with Dragonpay's recurring payment platform, these inefficiencies have now been addressed. "We handle all the bank interfaces and provide a single entry point to request recurring bank debits on behalf of an organization," mentions Robertson.
Further discussing the current state of affairs in the cash payments segment, Colleen notes that tracking offline payments from various sources can be a tedious and complicated process. "Cash payments are also easy to fraud," she adds.
Aiming to solve the setbacks, Dragonpay helps companies track all their offline payments through a single point of API connection and portal. Companies only need to integrate their e-commerce website with Dragonpay's API for the payment part; "We take care of the rest," Robertson asserts. And for companies with no e-commerce website, Dragonpay provides a simple pay-by-email-link model to handle the payments.
We have evolved as a 'partner of choice' for most of the business establishments in the country
Much like its solutions, Dragonpay also employs a simple client onboarding process. Explaining the practice, Robertson says: "We only require the merchant to register with us by submitting their business registration papers, permits, and tax certifications. Once the company signs the contract, pays the one-time setup fee, they are ready to integrate with our offerings and be up and running." Apart from that, Dragonpay also has partnerships with various shopping platforms like Shopify, which can significantly cut short the development and integration process. Even for end consumers, using Dragonpay is quite effortless. When a buyer checks out from a Dragonpay merchant page, they simply need to select where they want to pay (for instance, at their neighborhood convenience store), and Dragonpay's system generates a reference number, using which the buyer makes the payment in cash. This approach has not only helped the merchant company to seamlessly manage offline transactions but also offered the unbanked population of the Philippines the ability to make use of a simple payment system.
Colleen further explicates the robustness of Dragonpay's payment solutions through a customer success story. Shopee, a regional marketplace owned by the NYSE-listed SEA group, was on a drive to become a dominant marketplace in Southeast Asia. However, the company faced severe setbacks in the Philippines, where the penetration of credit cards and online banking was significantly low. With Dragonpay, Shopee was able to extend its reach to practically anyone who can pay by cash at a nearby bank, grocery, supermarket, convenience store, or remittance center. Following this success, Shopee now uses Dragonpay's mass payment solution through which Shopee can send payments directly to its sellers' bank accounts quickly, reliably, and cost-effectively. Apart from Shopee, today, Dragonpay also boasts clients like Ayala Land—a prestigious real estate developer in the Philippines, and Foodpanda—one of the largest online food delivery service platform in the country.
Today, Dragonpay's alternative payment models have earned numerous accolades from its clients. "We have evolved as a 'partner of choice' for most businesses in the Philippines," says Robertson. Looking ahead, Dragonpay intends to roll out more sophisticated capabilities to improve the online payments infrastructure in the country. "For 2019, we will be pushing our Cash-on-Delivery (COD) service and an installments payment service," reveals Robertson. COD payments account for over 85 percent of total e-commerce payments in the Philippines and Dragonpay intends to leverage this trend to the fullest. Alongside, the company also plans to support different lucrative financing business through their installments payments solution. To make these possible, "We are looking to form new partnerships with various large remittance networks and expand our reach for cash pickups in more locations nationwide," concludes Robertson.