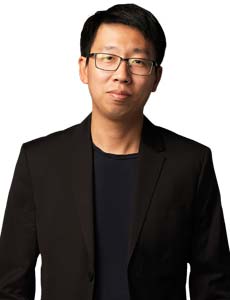 Jack Zhang, Co-Founder & CEO

Back in August 2018, the vision and business acumen of Jack Zhang and Lucy Lui were recognized at the "EY Entrepreneur of the Year Southern Region" awards. Co-winning the title in the fintech category was a testament to their entrepreneurial spirit, financial knowledge, thirst for innovation, and strategic vision for their venture, Airwallex, which they co-founded in 2015.
Hong Kong-based Airwallex is a fintech company that offers integrated solutions for payment collection, foreign exchange (FX), and local payment distribution. These solutions facilitate faster transactions and provide a cost-effective alternative to existing payment networks for businesses looking to automate and scale their international payment workflows. Founded to reinforce foreign exchange payments around the world, Airwallex is powered by a sophisticated FX and payment engine along with a transparent pricing model to avoid inflated margins and minimize market risk.
Facilitating International Payment Processing
Supported by investors such as Tencent, Sequoia, MasterCard, and Square Peg Capital, Airwallex has proven technical expertise in the global multi-currency market in the APAC region. Since its inception, the fintech startup has created a constant and stable trading environment by offering customers the live FX rates through its powerful FX engine. The FX engine performs currency exchange and payout in tandem, allowing businesses to keep pace with the international money market. It makes the comparable wholesale rates accessible by ensuring that customers pay for the true cost of money and also reduces the risks of market volatility by securing a 24 hour fixed rate.
Airwallex is eliminating the barriers to international growth, allowing businesses to expand globally by giving them easy access to secured rates. "Our mission is to eradicate the burden of international payments so that businesses can transact across borders with ease," mentions Zhang, co-founder and CEO, Airwallex. To facilitate international payment processing, Airwallex has built an expansive global payments network with smart auto-routing algorithms that bypass traditional payment methods to connect business with the world. The platform finds the most direct route that enables same day payments and features direct integration with a network of local payout providers to ensure a complete transaction. Designed for high volume transactions, the Airwallex platform facilitates payments at scale and brings transparency into the open and upfront pricing model.
Providing access to the markets that were previously unapproachable, Airwallex offers a centralized currency management and local collections tool to help customers create new accounts to manage multiple currencies. This centralized platform allows financial institutions and other organizations to comply with the foreign regulatory standards and trade globally under their registered name. By supporting transactions in a customer's preferred currency, the platform increases financial control and can also switch back to the user's local currency easily.
The Airwallex solutions facilitate faster transactions and provide a cost-effective alternative to existing payment networks for businesses looking to automate and scale international payment workflows
Alongside FX, international payments, and global accounts solutions, Airwallex offers a digital wallet integrated into WeChat, known as WeChat Pay. Through this wallet, Airwallex connects with 45 percent of China's e-wallet market, enabling them to send money to their contacts and make mobile payments.
Built for businesses of all sizes, Airwallex's comprehensive FX and payment solutions can connect customers in two simple ways—through application programming interface (API) and web. Using these connections, many pitfalls associated with cross-border payments due to the involvement of multiple intermediary banks can be solved. The cross-border payments undertaken by intermediary banks are often slow and expensive, lack transparency, and reduce efficiency. In an attempt to eliminate intermediary banks and integrate directly with the local payment schemes, Airwallex has developed a set of APIs. These APIs seamlessly integrate with an organization's existing infrastructure to support FX, payments, and collection. Besides APIs, the solutions can be availed through Aiwallex's web platform, which provides global access to a user's account providing insights into their trading activities. The web platform has an intuitive and straightforward interface that gives customers a pre-integration path to market.
Creating Extraordinary Experiences
Airwallex's payment ecosystem benefits all industries, whether it's travel, e-commerce, education, or any business involving international transactions. The company's cross-border payment solutions proved significant for one of the travel and tourism service providers. The travel company's daily routine was to collect funds in Chinese Yuan and connect Chinese travelers with a network of local tour experts around the world using its local booking platform. In order to cater to multiple international tour guides and service providers, the tourism specialist would require making volumes of expensive international payments to various beneficiaries across the globe. The high volume of payments attracted enormous fee, which led to increased operational expenses.
As a result, they were facing complexities in connecting with local guide bank accounts, onboarding new guides, and offering better travel experiences. Using its payment and FX APIs, Airwallex connected the travel company with guides and service providers across the globe.

Airwallex automated the payment processes, which reduced the operating expenses and eliminated the need for manual processing, and in turn, enabled the client to invest more in delivering cost-competitive experiences to their customers. With high-speed forward rates, the client was able to make faster payments to guides and service providers with minimized FX exposure. Additionally, the client could easily navigate complex international banking systems to connect with its customers, allowing them to offer better experiences across the globe.

Establishing a Global Payment Ecosystem

Airwallex identifies a gap in the market since banks do not have access to critical data of clients for loan assessments. "With businesses flourishing, especially the traditional offline SMEs that are starting to move online and become global, we want to be the backbone to support these new opportunities for businesses," says Zhang. The size of the global e-commerce market is forecasted to reach US $4.8 trillion by 2021 and given the lack of efficient cross-border payment solutions available in the market, Airwallex is looking forward to capitalizing on these increasing opportunities.

Recently, the company accrued $80 million Series B round funding last year. With Series B funding, Airwallex will prioritize its business in Hong Kong, Southeast Asia, China, and Australia whilst also expanding to Europe and North America. Asia is becoming one of the biggest markets for payments and fintech, and Airwallex recognizes an exceptional opportunity to build a digital bank that can do more than just replicating the success of fintech companies in Europe.

Moreover, Airwallex intends to offer working capital loans to SMEs to help them establish their businesses and has also collaborated with an undisclosed partner to underwrite deals for the same. Going forward, Airwallex seeks to acquire a virtual banking license in Hong Kong, a third-party payment license in China, and a cross-border Chinese yuan license with an aim to diversify its product portfolio.

Recently, Airwallex was granted an Electronic Money Institution (EMI) license from the UK Financial Conduct Authority (FCA) and was also identified as one of the top 50 Global Fintech Companies of 2018 by KPMG. The EMI license will help the company in further advancing its growth by undertaking operations throughout the European region. Using the license, Airwallex can onboard clients across European countries and collaborate with local banks to provide better financial infrastructure as well as payment services. Acquiring several licenses for offering financial services and partnerships across numerous jurisdictions will empower Airwallex to make international payments as cheap and simple as domestic payments.