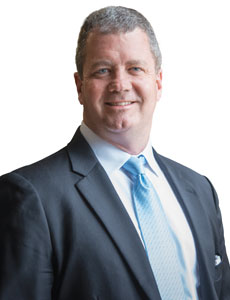 David Link, Executive Chairman & CEO
The banking and financial sector is undergoing one of its most disruptive phases in its long history. New payment methods and rapidly advancing technologies combined with often fragile legacy systems means that banks are in a state of flux. They know they need to embrace change but are struggling to compete against an avalanche of new players and are paralysed by the myriad of technology options at their disposal.
The competition is more intense than ever. And that competition comes from FinTechs and established tech players that are circling to pick up the most profitable financial products and services, leaving traditional banks to fight over those that are less profitable. Their margins are shrinking and transparency is increasing. Their ability to cross-subsidise products and services is diminishing. All this is putting strain on longstanding operating models.
One of the sectors ripe for disruption is the payments sector. An overhaul of cards and/or payment systems is extremely costly and requires considerable investment at a time when margins are being eroded.
Payment innovation
Australian technology company Verrency removes the challenges of payment innovation for banks. Verrency is an open API platform with a number of pre-built services that enable issuers to offer customers a variety of bolt-on payment options such as card aggregation, device management, loyalty point and reward spend, and card controls without the need for integration into existing systems. This is a win for the issuer because there is no disruption to existing IT infrastructure. Verrency also turns the challenge of FinTech competition into an advantage for both banks and FinTechs, as it enables FinTech services to be distributed by banks - benefiting both banks, FinTechs, and most importantly - consumers.
Verrency's robust infrastructure and ground-breaking automation demonstrably reduces deployment time, deployment risk, and operational risk – critical when dealing with payments on the issuing side.
"Verrency is essentially a 'turbocharger' which gives issuers a low-cost model to offer a whole host of new payment services over their existing infrastructure," says David Link, Executive Chairman of Verrency Holdings, and a former top executive at Accenture.
Experienced leader
Link spent 26 years with the global professional services company in various financial services leadership roles in the US, Europe, and Asia. He is using this global experience and his expertise he garnered in the payments and banking sector to drive Verrency.
"Given my experience implementing transformational change at global banks over multiple decades and the significant advances in technology that have occurred just in the last few years, I knew that the payments sector was ripe for this type of innovation."
Link said Verrency already has multiple high-profile clients in its commercial pipeline and has signed several initial agreements across multiple geographies.
Verrency's uniqueness
Verrency's uniqueness is two-fold. Firstly, Verrency, as an API platform, operates live in the payments flow at the time of payment. Secondly, Verrency enables banks to easily convert a one-to-one relationship between a credit or debit card and the underlying funding account into a many-to-many relationship. This means Verrency can be used across multiple channels allowing multiple accounts to be used for a multitude of payment options. For example, if a customer wants to make a purchase using points from a bank-affiliated loyalty points program, it can be easily enabled across cards, online or even virtually, without any merchant POS or terminal integration – thereby offering a significantly increased level of utility for the consumer.
Verrency also enables an issuer to give consumers an unprecedented level of control over their cards and accounts. For example, if a user has a special account they use for medical expenses, controls can be set to direct all medical expenses to that account, but prevent any other charges going there – all through their regular card.
Verrency is essentially a 'turbocharger' which gives issuers a low-cost model to offer a whole host of new payment services over their existing infrastructure
This flexibility both increases the ease of use of products such as a Health Savings Account (i.e., a US-specific product), but also gives the cardholder real control over their spending and savings.
Verrency enables cards to be stored, loaded, tokenized, and controlled across a variety of devices such as mobiles or connected wearables. Consumers that use multiple accounts from their bank can also aggregate them. For example, if a user has two debit accounts and a credit account, they can use them for payment across their bank's cards and/or wearables as desired.
Tackling fraud
Fraud is a major issue for financial institutions and is on the rise according to KPMG Australia's Fraud Barometer. In the six months to September 2016, fraud rose by 16 percent to $442 million – up from $381 million in the previous six months. The report showed there was an eight-fold increase in frauds targeted at financial institutions.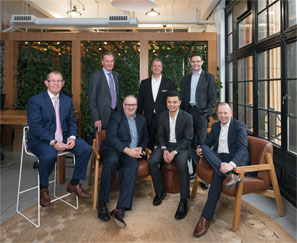 Verrency's fraud offering covers the entire card and account network with a layer of security.
"Verrency enhances a bank's existing fraud detection systems," says Link. "Most fraud happens when consumers use their cards at a merchant where the data is subsequently compromised and then re-used elsewhere. We use breakthrough patent-protected methods to prevent fraud." For example, if a customer's EMV-related card number is copied and used without the presence of the physical card, the platform will detect this and enable rejection of the fraudulent transaction. Issuers can also choose to help consumers enable dynamic CVVs for online purchases to shield them from online fraud.
Speed and reliability are key
Speed is, and always has been, an issue on payment platforms. Verrency has gone to extraordinary lengths to ensure speed is not an issue. Using cloud-based infrastructure, Verrency has already scaled their platform to process full-system wide volumes in several target countries, and is currently working to meet the global peak volumes of the schemes.
"With each of our customers having their own independent instance of the platform, we could have rested on our laurels and stopped testing at 500 or 1000 transactions per second," said Link, "but we wanted to give issuers the confidence we could handle anything they could throw at the solution now, and in the future, whilst still maintaining our performance target of 100 milliseconds."
To decrease risk and ensure maximum reliability, a fully automated continuous integration testing and deployment regime are also in place, with Verrency partnering with Iliad for its automated testing service and Amazon Web Services for automated cloud deployment.
A fintech enabler
Speed, efficiency, and security apart, providing payment-enabling services for banks and issuers puts Verrency at the top-end of the market but Verrency also enables services for new and unconventional players.
Verrency's pricing is a low-cost subscription model, with any or all services enabled for the same per account holder cost.
As a Fintech enabler, Verrency is a big supporter of the sector. "As Verrency operates uniquely at the point of payment, we enable a large number of payment-related Fintech services that previously never contemplated being able to go to market via an issuer or were simply too expensive for an issuer to integrate," said Link. Verrency has formally launched its partnership arm and is now actively recruiting targeted Asian FinTechs to connect to the Verrency platform for global distribution. As Verrency doesn't charge anything for FinTechs to connect, it is a clear 'win' for the FinTechs as it provides an additional distribution channel. The FinTechs currently signed up have all been effusive in their praise of the model.
Verrency's service connections don't just stop at open APIs. Link has been a global advisor to Ripple for several years and is a strong believer in the positive changes that are enabled by distributed technology. Verrency also connects directly to the blockchain. It enables issuers to utilize digital currencies such as Bitcoin and in the future Ether and XRP.
The right team
Link puts a lot of the company's early success down to CTO Euan Walker and Commercial Director Michael Moore, as well as the company's experienced advisory board.
Walker brings more than 20 years of complex technology delivery to the business, having worked across the banking, insurance, and telecom sectors. Most recently he was a technology executive at ANZ so understands the hurdles large banks encounter.
"Verrency brings a host of curated FinTech payment services to banks in one connection"
Moore is a seasoned executive with more than 15 years experience in Australasia, North America, and Europe. He has been an executive at MasterCard Australasia in the digital and emerging payments space.
Link has aggressive growth plans for Verrency. "Payments are global and so should we be," he says. To this end, following its successful launch in Australia, Link has begun the company's global expansion in the US as well as Asia.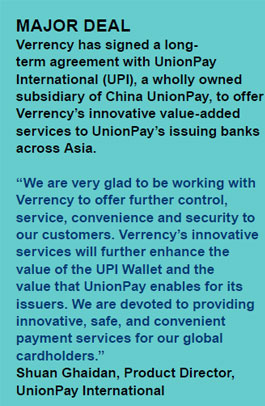 For the US, Link has hired accomplished entrepreneur and executive Joe Lynam as Managing Director along with Audrey Blackmon as Senior Vice-President of Business Development and Anand Choudhary as Head of US Client Implementations.
Lynam will lead the company's US strategic growth initiatives and distribution partnership opportunities. He has extensive start-up and growth stage experience in the financial technology and global payments sectors. Before joining Verrency, Lynam was the Co-founder of xPressTap, Founder of PayOne, and Founder of VRS Billing Systems.
Blackmon will lead US sales and business development. Blackmon has more than ten years in start-up consulting as well as two decades in the payments industry having held senior leadership positions with companies such as Vantiv, FirstData, and WorldPay.
Choudhary will lead pre-sales engineering and client implementations. Choudhary has been providing technical solutions to banks for more than 15 years from senior position at start-ups such as OnDot, Verifone, and Capgemini.
Link has also appointed highly credentialed payments specialist Michael Kennedy as the first member of its US advisory board. Kennedy comes with an esteemed corporate background, having held the position of Executive Vice President at Wells Fargo and being founder and former CEO of clearXchange (now Zelle).
Global expansion
Verrency is based out of Australia's FinTech hub, Stone and Chalk, and is also launching in Asia – with an initial base out of Singapore. It has also opened office at Level39 in London and expects to begin commercialization in the UK and Europe in 2018. Verrency has also been accepted into the highly prestigious US FinTech Accelerator program of Plug And Play in Silicon Valley.
Verrency has completed two successful funding rounds – both oversubscribed. Its next funding round is planned for the middle of this year.
Verrency is definitely a company to watch in 2018. Its unique value proposition, use of automation, cloud and distributed trust technologies, and extremely experienced leadership team make it a company worth partnering with.
Its focus as a payments innovator platform for banks targets absolutely the right spot and is sorely needed by banks that either can't afford the high cost of the internal IT changes or require a flexible suite of services deployed fast.