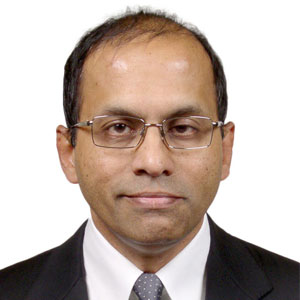 Ravi Rajagopalan, MD & CEO
With consumer preferences shifting toward online services, the advent of digitalization has revolutionized business processes across different verticals.
For the banking and finance sector, this change is reflected in the form of digital services that have pushed customer engagement and operational process efficiency to an all-time high. One firm that has gradually yet markedly made its presence felt in this landscape is Mumbai, India-based Empays.
"We are the only digital financial services provider to the BFSI community with the focus being primarily on digital payments", says the Managing Director and CEO, Ravi Rajagopalan. While the company does possess some of the largest institutions in its home turf (such as its client SBI), Empays's adoption by global giants like Barclays Bank PLC corroborates the market-leading position the company has achieved over the years.
Empays's flagship product, Smart Digital Payment Platform (SDPP), is a cloud-native, micro-service architecture platform that is designed to work with a number of interfaces such as ATMs. Being a micro-service platform, the SDPP enables institutions to set up or tear down digital financial services as their business needs change or the underlying technology evolves.
It is important to note at this point that recent initiatives like PSD2 in the European Union have robbed banks of the privilege of monopoly over the financial services they provide to their customers. This will result in third parties rising up to the occasion and offering competing services to end customers.
We are the only digital financial services provider to the BFSI community with the focus being primarily on digital payments
In line with this development, Empays intends to help its clients gain a competitive advantage by providing interfaces developed for open APIs. The platform encapsulates rich capabilities around AML, sanction checking, and electronic KYC, which are of interest to both newly emerging digital banks and the existing brick-and-mortar banks looking to compete with agile new players.
The firm's flagship platform serves as the base for its second product called Instant Money Transfer (IMT), which has been a major hit in the industry. The IMT is the only such payment system that is currently licensed and authorized by Reserve Bank of India (RBI). The payment system enables a network of more than 100,000 ATMs to operate without a card, making it possible for mobile bank accounts to obtain cash. This feature is a major highlight for developing economies as IMT makes it possible for a person without a bank account to receive monies remitted by someone from a smartphone. For such markets, the availability of digital cash is a strong guarantor for digital financial services, and these services will become increasingly oriented toward mobile payments involving licensed mobile wallets and apps. "And, we strive to fulfill the role of providing such solutions in a low-cost, safe, and reliable manner," notes Rajagopalan.
To paint a realistic picture of his firm's capabilities, Rajagopalan cites the example of a prominent Indian bank that wanted to position itself as a "digital challenger bank without resorting to a high street presence" in the U.K. The customer, Axis Bank UK Ltd, leveraged the capabilities of the SDPP that allowed it to launch an app that a customer could download, be on-boarded without any face to face contact, and transact—all within 30 seconds.
Empays has now begun to address the difficulties faced by Asian SMEs in making payments to and collecting payments from hard currency markets in partnership with two European banks. A product announcement is just around the corner. Additionally, Empays is exploring the use of block-chain technologies in making payments cross-border for businesses.