The Evolution Of The Payment Ecosystem
By Vipin Kalra, Chief Executive Officer, BankBazaar International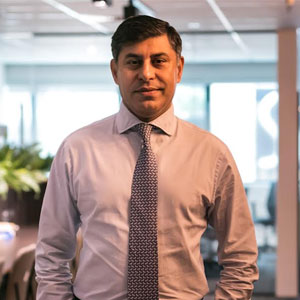 Vipin Kalra, Chief Executive Officer, BankBazaar International
The payments industry has undergone a perpetual cycle of transformation over the last few years, with no signs of slowdown in the near future. If we take a look at the current landscape, even though cash continues to be used widely, electronic payments are fast gaining ground. According to the World Payments Report 2017 by Capgemini and BNP Paribas, global non-cash transactions recorded the highest growth of the past decade during 2014-2015 and are expected to increase at a compound annual growth rate of 10.9 percent between 2015-2020.
The shift towards electronic payments has been accelerated by a number of factors including the push for creating digital economies, improving financial inclusion, and most importantly, technological innovations.
Technology leading the way
Technology has been one of the key drivers of change, transforming the payment ecosystem on every front, be it the cardholder, issuer, merchant, acquirer or the payment network.
The proliferation of smartphones and growing connectivity is making online and mobile payments the new normal. This is especially evident in Asia where mobile-first customers are embracing alternate modes of payment including mobile wallets, QR codes, and contactless payments.
The payment ecosystem will remain vibrant and provide opportunities for those who can create value through innovation

In turn, merchants, big and small, are enhancing the checkout experience by supporting multiple payment methods to cater to changing needs of customers and provide a consistent payment experience.

The evolution of the industry is being further propelled by the rise of FinTech. In the past, the payment ecosystem was largely dominated by banks. However, non-bank players are starting to gain market share by challenging old business models and expanding the value chain with customer-driven innovations. According to an Accenture report, the largest share (40 percent) of 2015 Asia-Pacific FinTech investment deals was in payments.

Developments in emerging technologies such as AI, blockchain, and IoT are now bringing in the next era of transformation in payments, fuelled by the demand for greater convenience, security and efficiency.

What the future holds

With continued technological innovation, we can expect further disruption in the payments landscape.

The ubiquity of personal devices and growing adoption of payment technology will make hardware less important. We will see a shift towards invisible payments, where transactions are completed in the software layer without the need for a credit card or account number.
Developments in acceptance and payment networks will also lead to a bilateral flow of payments – more consumer initiated payments as opposed to just merchant initiated payments.

FinTech will continue to flourish, leading to the emergence of new players and solutions in the market. Due to the rising number of third-party platforms offering payment services, open banking through APIs will be needed to creating a more seamless customer experience. However, not all players will survive in the long run, transaction economics driven by need for scale will ultimately lead to some consolidation in the market.

Despite these disruptions, the payment ecosystem will remain vibrant and provide opportunities for those who can create value through innovation.
See Also: