Strategic CIO Leadership Tools for Driving Successful Digitisation
By Sreeram Iyer, Chief Operating Officer, Institutional Banking, ANZ Banking Group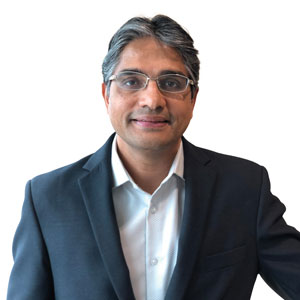 Sreeram Iyer, Chief Operating Officer, Institutional Banking, ANZ Banking Group
Recent Financial Technology advancements in banking have been rather impressive, particularly the many new avenues to smoothen customers' payments and borrowing experiences. At the same time, the banks' profits have been declining. Per Deutsche Bank's "Asian Banks Outlook 2017" research, Asian banks' average Return on Equity trailed all other regions except for Europe as at 2016. This "double whammy" of increased competition from new market entrants and compressing returns has been pressuring banks into increasing digitisation, (or adoption of new digital tools, such as Robotic Process Automation (RPA), Big Data, Artificial Intelligence and Machine Learning), which could finally start improving their Cost Income ratios, and by extension, their returns.
This shifting banking landscape has created a number of new challenges for the industry's CIOs, especially in the fields of strategy and leadership. Here are four perspectives based on recent experience and implementation at ANZ, which could hopefully be useful for any banking CIO in driving successful digitisation in their organizations.
• Culture:
One of the most important elements of any successful digitisation is changing the culture within the organisation. Despite the spectre of job losses, staff at all levels need to be 'included' in the change, to promote tangible enthusiasm and appetite by becoming more aware of new technologies, and changing the way we work in a world with minimal hierarchies. A key question on cultural change depends on how many of your staff move from 'awareness' to 'interest' to 'adoption' (Fig.1), breaking away from the past and effectively becoming hungry to adopt. The more you can motivate to be at the top box, the better the chances of success.
•
Strategy:
Next, it is really important for CIOs to align with the Business Strategy. Digitisation should not be pursued as an end in itself, but only with the whole-of-business strategy on customer-focused transformation in mind. CIOs have a significant role to play in ensuring that such strategy and investment ultimately lead to improved returns (at least in the case of banks). A few questions that CIOs could ask themselves to ensure proper alignment are:
This shifting banking landscape has created a number of new challenges for the industry's CIOs, especially in the fields of strategy and leadership
• What is the Board's level of engagement in and awareness of the global digitisation trends?
• Does the management/executive team at the top of the house have a solid Digital Business Strategy with genuine buy-in from all organisational units?
• Are the purpose and elements of digital transformation articulated well enough for all staff to understand, appreciate, and execute?
• Are the planned investments sufficiently prioritised to align with the above?
•
Technology:
It is only after the above, that the organisational approach of "Technology" (i.e. new platforms, channels, capabilities, and toolkits) is reviewed for alignment. CIOs will need to become comfortable with "digital" governance that cuts across different organisational units, yet accommodates each one's unique demands and pace. CIOs will need to reflect on the difference between "Enterprise"-level assets (which may need 'protection' and perhaps even further investments) and the "Business Unit"-level assets, including phasing out those which have outlived their useful life. Funding and investments have to align to the digital ambitions, and CIOs will need to play a central role in this exercise.
•
Data:
We have also learned along the way, that data precedes platforms. CIOs can and should focus on data quality as much as on other new-age technologies. What we have realised during our own digitisation journey – and it is no surprise really - is that robots, for example, require "clean" data to be effective – so a lot of the work involves streamlining the process and inputs for the outcomes to meet or exceed expectations.
•
Continuous Learning:
I recently encountered a notion that 'Leadership is too important to be left to the bosses', and I couldn't agree more with it. Continuing self-education is a necessity in all organisations. It does not seem appropriate that some 50-year olds are charged with deciding what the 25-year olds should be learning. Actually, in this increasingly digital age, the reverse holds true. The question for CIOs then is to ask if the organisational hierarchy is an enabler or is it a blocker for self-learning? The emphasis here is self.
These leadership challenges require an unrelenting commitment from CIOs and senior leaders alike. It may also be tempting to claim a digitisation victory too soon (based, for example, on some front-end customer channel experience), while the rest of the organisation has not changed culturally or where processes have not been truly transformed. This commitment requires time, energy, constant communication, and rewarding behaviours.
To summarize, I strongly believe that CIOs will have a large role to play in leading digital change at a strategic level. I have shared perspectives which could be adopted to bring about the much-needed change: Cultural evolution, Business Strategy alignment, and a Technological refresh with prioritised investments in Digital capabilities