Selling across the seas: The role of payments in cross-border retail
By Tyson Hackwood, Head of APAC, Braintree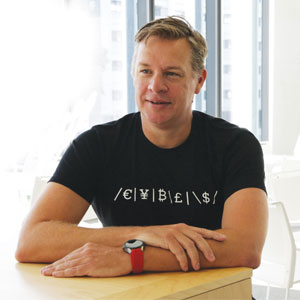 Tyson Hackwood, Head of APAC, Braintree
When some of the first e-tailers emerged, the notion of buying something online, trusting the internet with your payment credentials, and having the product delivered to your door in a timely manner felt like a foreign (and impossible) concept. Fast forward two decades and you'd be hard-pressed to find a product or service that isn't available for purchase online. Advancement in technology is opening commerce opportunities for everyone at any time, on any device, and from anywhere. And across Asia Pacific, we're taking full advantage.
A survey by PayPal found that we in APAC use mobile for cross-border purchases more than any other market in the world. Our neighbor to the north, China, has emerged as one of the biggest markets in terms of online spend, and the most popular cross-border online shopping destination for global online shoppers, topping the US and UK. For businesses in APAC, the opportunity to reach an entirely new customer base and expand overseas sales is huge.
The China Opportunity
Turning to Australia for a moment, across China there is a strong appetite among consumers for Australian goods. Viewed as good value for money and safer than Chinese goods, demand for Australian products–from dairy, fresh seafood and meat, to health supplements, baby products and pharmaceutical goods–is on the rise. In 2016, more than 8 in 10 Chinese online shoppers said they were highly likely to buy at least one Australian product in the next 12 months, while a similar number already had.
Supported by the China-Australia Free Trade Agreement, and the emergence of online marketplaces connecting to consumers in China, it is becoming easier for local businesses to do business in China. Beyond China, the hunt to find better prices and products they wouldn't find in their own country are driving consumers globally to shop cross-border.
But when it comes to making that final purchase, what stands between 'Add to cart' and 'Checkout' is the payment process. In the end, cross-border customer conversion boils down two things–convenience and security.
Selling convenience
A great user experience is always important in e-commerce, but it's even more vital for cross-border sales where shoppers are more cautious and cart abandonment rates are higher.
In an age of mobile-everything, one technology that is beginning to capture the attention of consumers is digital wallets.
In an age of mobile-everything, one technology that is beginning to capture the attention of consumers is digital wallets
Globally, the mobile wallets market is expected to exceed USD 3 trillion, and consumers in APAC are again taking the lead. For bricks and mortar businesses, digital wallets are turning what is now its biggest threat (e-commerce) to a huge opportunity for customer acquisition, richer engagement and cross-border business expansion.
When Australia's fastest growing fast food company, Guzman y Gomez, launched its first 'click and collect' mobile app, it marked the brand's evolution from a traditional bricks and mortar to a "clicks and mortar" powerhouse – revolutionizing how customers purchased goods and engaged with the brand.
By allowing customers to browse the menu, order for multiple people, and make a simple payment through the app, Guzman y Gomez was able to remove hurdles from the payment process and make it easier for customers to go about their lives with as little friction as possible. Its continued investment in e-commerce has also seen the popular Mexican eatery expand its taquerias internationally into Singapore and Japan, with more to come.
But don't forget currency. With PayPal's Cross-Border Consumer Research finding that 72 percent of shoppers prefer to pay in their home currency, while 45 percent would not feel comfortable making purchases online in a foreign currency, simple buying experiences also mean offering familiar payment options.
Keeping it secure
Every aspect of the mobile transaction experience plays a part in converting an international consumer into a customer, as well as shaping the shopper's perception of your brand and your ability to satisfy their needs. Security is no different.
Despite more and more millennials enlisting the help of a smartphone when making purchasing decisions, 53 percent are still making their purchases in physical stores. Why? Because for many millennials, it's the security of your online checkout that matters most.
In Australia, close to 30 percent of consumers believe keeping their financial details secure is the responsibility of the business they buy from and while achieving and maintaining PCI compliance may not be a public-facing part of your customer experience, but it's crucial for building your customers' trust and loyalty, as well as helping to protect your business from potential data breaches.
Actions speak louder than words, and taking every possible measure to ensure that their payment data is secure shows a commitment to the security of your customers, while improving the odds that they'll complete their purchase and return down the line.
As long as consumers continue to question the security of the mobile sites they visit or choose to abandon their shopping carts moments before completing a transaction, there is still work to be done.
Let's take it global
For consumers, being able to engage with a brand online is now a global expectation. APAC is already an incredibly mature market when it comes to digital commerce, but with competition from both local boutique retailers and global e-commerce giants growing, the race to offer effortless shopping-to-checkout experiences is tightening.
As startups and small businesses begin to take advantage of the international appetite for cross-border purchases, there is huge opportunity for enterprise to tap into this global
retail opportunity.
. So long as e-commerce is at the helm.