Navigating the payments ecosystem (r)evolution
By Tomasz Kurczyk, Digital Transformation Director, AXA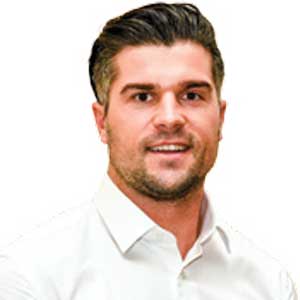 Tomasz Kurczyk, Digital Transformation Director, AXA
Payments have been the backbone of business and commerce since the very beginning of trade. Today, we have the privilege of watching the fourth industrial revolution happen right in front of our eyes, with various industries leveraging technology advancements to redefine what is possible and to catch up with ever-changing customer expectations in terms of faster, easier, and cheaper solutions and products. This creates similar urgency for payments to follow suit as it is the ultimate 'oil' making the complex commerce ecosystem tick.
Initially, we witnessed two different pace of payments landscape development that greatly depended on the maturity of the financial systems and its infrastructure in the respective market. Countries with mature financial systems were characterised by a slower pace of change due to the complexity and rigidity of infrastructure developed over decades. On the other hand, countries with basic infrastructure that traditionally relied heavily on cash, made great strides in terms of innovating and adopting mobile payment modes. Kenya with M-Pesa and China with its mighty mobile wallets, for example, leapfrogged others and raised the bar. Today, we see greater convergence with mature markets catching up to the rest of the pack. A very good example would be Singapore, where the new payments initiatives are seen as an integral part of a much broader Smart Nation Strategy focused on improving citizens' lives, driving innovation and increasing competitiveness of the economy with initiatives like PayNow and unified SGQR.
The emergence of new digital payment types that started with PayPal twenty years ago and only accelerated in the past four years, reshaped the landscape making it even more fragmented. This resulted in a more complex environment for corporations aiming to balance delivery of convenience to customers by supporting new payment types, with the need for standardisation. This becomes particularly challenging from an integration and maintenance standpoint, given that new payment types typically have not eradicated their predecessors and most of integrations have been implemented following point-to-point model.
The good news is that it looks like we are at the infliction point of evolution for new payment types, so we can expect greater consolidation and integration in the near future.
Payments play a pivotal role in making or breaking the customer experience
Realising economies of scale and potential savings in terms of processing fees as well as systems integration and maintenance for merchants, especially at the regional level across APAC, becomes complicated due to the need for support of multiple providers and solutions. It created market opportunity, allowing a new generation of tech-led payment service providers such as Stripe, Adyen, Square and Klarna to emerge, offering an increased level of aggregation and transparency. Nevertheless, finding a single provider that can support country-specific payment types, schemes and payment modes, along with the right settlement capabilities across APAC, pose a challenge. In many complex, high-volume and multinational businesses like insurance, corporations are still required to develop custom solutions to address PSP intermediation, enabling flexibility to arbitrate and optimise between processing fees, market-specific payment options and product-specific or channel-specific requirements.
Introducing multiple PSPs is a balancing act between potential savings in processing fees and complexity, introduced post-transaction for the back office. For many corporates, the weakest points are legacy backend systems and increasing complexity of reconciliations, reimbursements, cancellations, etc. which create bottlenecks and potential issues in other parts of the value chain. This is an area where technologies like RPA have been successfully implemented to bridge the gap between modern payment infrastructure and legacy backends, driving savings and ultimately improving customer experience through automation.
Payments play a pivotal role in making or breaking the customer experience. To gain competitive differentiation, companies must provide a seamless and branded payment experience embedded directly within the consumer's purchase journey. Today, it is much easier to deliver on new user experience (UX) requirements with the availability of APIs provided by traditional players such as credit card schemes, local acquirers, PSP's or even banks opening up as part of Open Banking initiatives. Existing and mature, well-tested solutions— widgets, SDKs and front-end encryption libraries, etc. are providing technical solutions and integration patterns to reduce and simplify integration, while meeting compliance standards such as PCI DSS.
Following UX, the new frontier in the battle for differentiation would be value-added services provided by merchants and enabled through payments, starting from rewards, cashbacks, point-of-sale lending, bill payment automations, etc. Customers are starting to demand value that extends beyond the point of transaction, with perfect willingness to share even detailed consumer data in exchange for enhanced services such as advice on personal spending or credit score. This creates numerous opportunities to create true ecosystems and integrated value chains, whereby value is generated and shared in the form of access to consumer insights far beyond the moment of the actual transaction. This is the ultimate missing piece that can make the omnichannel experience a reality, with payment as the glue linking the online and offline worlds.
The future looks even more exciting with inevitable development of the new ecosystem of micropayments and transactions finally coming to life through maturing distributed ledger technology (DLT). This will open a new chapter in the payment ecosystem revolution where organisations that have walked the journey can hopefully apply the lessons learnt to evade past mistakes, as some challenges are certainly evergreen.