India is leading the M-commerce Wave
By Nitin Sethi, Design Thinker for Startups, X Quikr, Yatra, Naukri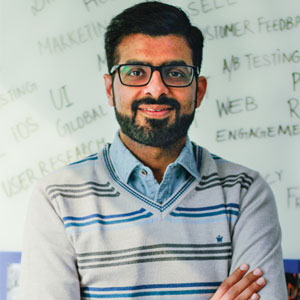 Nitin Sethi, Design Thinker for Startups, X Quikr, Yatra, Naukri
Startups and SMEs are leading the digital transformation in India by defining the new generation of consumer-centric digital products. Many customers are facing innovations in the Asia-Pacific region, and India is leading by capturing more significant market share. Small, mid and large-scale businesses along with innovative startups are re-defining the new generation of products and changing the way consumers use daily and occasional services. A massive local cashless ecosystem is not far away, but still, a lot needs to be done in getting there. Government and public-private partnerships are leading the innovative solutions. India is one of the largest markets for any category and will continue to get a lot of attention from global players.
With customer-centric products, we will witness path-breaking innovations in the next 3-4 years. We are still on the surface and need to do a deep dive to solve problems for masses. India will see 4-5 new unicorns in the payments ecosystem. India is a unique market with its own set of issues and requires local perspective when it comes to solving problems. The key here will be customer empathy. The time is changing, and so is customer behaviour. One fit for all will not work anymore. A government policy on demonetisation changed the canvas overnight for the whole country. Internet penetration with cheap mobile phones is giving great growth numbers. Digital payments in India will continue to grow for the next 8-10 years at this pace. Design thinking and innovation will continue to play a crucial role in increasing adoption. Every type of product and service is available online these days. We need to keep up our efforts to get more traction on new categories. Today, categories such as travel, aviation, hotel, e-commerce, food, taxi, fashion, medicine, education, classifieds, bill payments, grocery, meat and seafood, health, furniture, furnishing, auto, entertainment, etc. are few large ones but we need to cover the entire landscape. Staying on top of the trends and relevant from the offering to different needs require continuous iterations and tweaks in the business models. The opportunities to open new segments and customer base are immense.
In the Indian context, personalized customer experience will be the flavour of the season, and low-end mobile phones cannot be ignored
I see a potential of 2-3 big digital payment players in India dominating the global markets.
Great value for money, convenience, ease, trust, security, and broader choices are shifting the users online. Support from government and business-friendly policies can change the growth gear further. We still have a large percentage of unhappy customers and payment failures. To give a boost to the whole ecosystem, this has to be addressed. In my opinion, retaining the existing customers is more important than acquiring new and first-timers. India is a price-sensitive market and customers always demand more frills. Brands focusing on enhanced user experience command 20-30 percent better conversions vis-a-vis their competition. On an average 5-6 percent, conversion is considered decent, but it can be quickly taken to double digits if done correctly with eliminating ambiguity from the key decision-making parameters. In my 18 years of career building and leading digital platforms, I have witnessed 50-70 percent growth and improvements in conversion numbers. The key lies in simplicity and detailing. An omni-channel strategy is changing the fate of many leading brands in our market. India has witnessed 100 plus new powerful brands in last one decade. We are a young country and millennials are having deeper engagement with brands across channels.
Payments don't mean cash anymore. Credit cards, debit cards, digital wallets, payment gateways, UPI, pre-paid cards, vouchers, loyalty programs, cashbacks, etc. are vital pillars in increasing offerings to a customer with friendly and familiar payment options. There is still a lot to be done to build and win the trust of the consumers towards the privacy of data and security on their selected payment methods to shift the offline volumes to online. Abandon cart and funnel dropouts are known devils in the room, which needs to treated with a customer-centric approach. With more and more global players coming to India, the customer is always demanding high service levels and expectations are on the rise. A balanced approach to disruptive innovation and incremental changes will form a perfect balance in a critical foundation layer like payments. Increase transparency through FinTech to establish a profitable business model in B2C, B2B, C2C categories is required. Tackling fraud and building trust by assuring customers is super critical for our Indian ecosystem's growth.
Handholding and self-service play an essential role in having a world-class shopping experience on digital platforms, but a reliable payments partner with a variety of offerings is the need of the hour. Many traditional retailers moved to digital to survive the change and will continue to adapt to the new way of doing business in the digital age. In the Indian context, personalized customer experience will be the flavour of the season, and low-end mobile phones cannot be ignored. Integrated cross-channel strategy with chat bots, AI, VR, and ig data can result in multiple X growth in payments in coming years. India will witness 100 unicorns now in the next five years because we continue to keep user personas, use cases and critical user flows in the centre while crafting consumer experience. Our extensive market of over 1.35 billion people is our biggest strength. No digital transformation is complete without a robust and reliable payment system.
Let's make in India for the world.