Future of Banking and Financial Services
By Rajnish Khare, Head Digital Transformation, HDFC Bank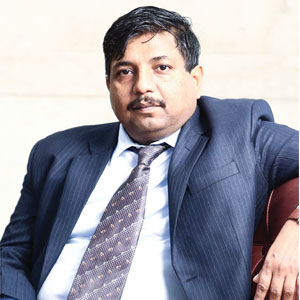 Rajnish Khare, Head Digital Transformation, HDFC Bank
The world of finance is highly commoditized. As far as banking and financial sector is concerned, interest rate and repayment forms the backbone of structured finance whereas all other banking and financial services are variants of it. The statement may sound simplistic, but in order to win the heart of customers, simplicity is important.
If this is the case, then the relevance of traditional management models of leadership viz. product leadership, cost leadership, process leadership that lead to better service standards will soon phase out. One thing that will redefine banking and shape the future of banking and financial services is Experiential Leadership.
All major giants who paved their way through success like Google over Yahoo, Amazon & Alibaba over Walmart, social media companies like Facebook, Twitter and WhatsApp over print media focused on customer experience. Although information always existed, merchandize was all pervasive and communication was always abound, but what persisted for these companies was the way they fixated on delivering an enhanced experience using digital medium to their customers.
So to top it off, future of banking and financial services will be experiential banking that has "customer experience" at its core. New age technologies will become an enabler and the platform over which experience is delivered will be the master. Banks that manage a customer's financial life cycle and growth safely will take precedence.
Financial Institutions that will help the customer in taking wiser money management decisions and make them wealthier will rule the roost. Ultimately, Experience, Growth and Optimization (EGO) will be the goal and not Finance, Assured Returns, Insurance or Liquidity (FAIL) and Advisory, Growth and Economics (AGE) will be the mainstay. And New Age Technologies will shape it.
From technological point of view, the world is going mobile. India has witnessed the fastest 4G rollout in the world and 5G, FTTH and 7G are already in the offing. It's going to be a wireless world wherein AI, AR and VR and teleportation along with 3D printing are going to be the next frontiers to deliver experience, goods and services.
Digital Identity will form the backbone of digital world—be it financial or otherwise. Advancements in Biometrics, Blockchain and Conversational interfaces (BBC) powered by NLP and AI will ensure safety, security and serenity.
Future of banking and financial services will be experiential banking that has "customer experience" at its core
Technologies like QR Code, Image Processing (Remote Cheque Deposit, Photo Bill Payment and Selfie Account Opening) and Voice Assistants like Amazon's Alexa, Google Assistant and Apple's Siri will drive the virtual experience.
As BlockChain gains ground and hopefully, lives to its promise of security and scalability as well, more B2B, (trade finance), C2B (remittance), cross-border commerce (B2C and B2B) use cases will add to a mobile world. Settlement will be backed by real—time payment and settlements systems like IMPS, UPI and Blockchain as the platform. More and more businesses will leverage it, as working capital management (lifeline of any business) will dramatically improve.
As the wireless technologies improve further, Holographic Banking backed by image authentication technologies and face recognition capabilities will let people interact with each other virtually and will become the mother of all Mobility applications.
With algorithms and computing power breaking new grounds, a seamless and unbiased advisory will emerge, which can take care of any biases, pre conceived notions or rigidity in portfolio management and make customer in charge of financial growth. Banks which will be able to take advantage and bring in robo-advisory as core to financial planning and growth, will be revered by customers and change the dynamics of management expenses and optimised returns.
SMEs will be the key pillar of any bank's asset business. Psychometrics, Artificial Intelligence & Machine Learning and edge computing becoming viable, will help in not only assessing creditworthiness of SMEs but will also help in gauging the "intent to pay".
Advances in knowledge databases, access improvement to databases and smart "manthan" of data lakes (the smart information repositories to simplify it) will equip BFSI with ability to better assess the rapidly changing business environment, in which their customers will operate. Edge and Quantum computing with far advanced modeling techniques will facilitate real time opportunity spotting and
risk management
.
Social Networks, despite all being said about them, will spread their influence and collective bargaining and deals may gain ground with power shifting to consumers. If BFSI, can leverage social networks, a very rich source of information about your end customer, be an individual or a corporate, they will do very well for themselves.
The Fintech and startup ecosystem will evolve and become even more granular right down to an individual, and organisation will strive not to benefit just by financing them but will benefit by enabling such ecosystems players to grow into SMEs and possibly some of them into giants. Banks will forge a friendship, bring paternal and maternal characteristics and also serve as mentors to such players.
Banking in the next decade will Adam's reincarnation— Agile, Digital, Assured, and Maverick. To quote, "Banking will not be about borrowing, lending and collecting but it will be about Social, Holistic (one stop shop), Advisory, Partnership, and Evolution (SHAPE)—The "SHAPE" of Banking in the next decade.