Driving the Cashless Society to Contribute to the Growth of Digital Economy in Indonesia
By Ivan Jaya, EVP Head of Wealth Management & Retail Digital Business, Commonwealth Bank Indonesia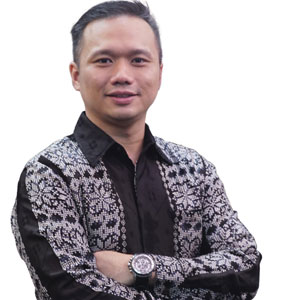 Ivan Jaya, EVP Head of Wealth Management & Retail Digital Business, Commonwealth Bank Indonesia
There are 260 million people in Indonesia and around 60 percent of them are in the working-age population, however only 36 percent of the population have bank accounts with 10 percent adopting non-cash payments. Despite this vast number of the unbanked population we are seeing 137 million active internet users with more than 370 million mobile subscriptions in the country. Clearly the regulator's action in 2017 by launching the National Payment Gateway ("NPG") to make the fragmented payment infrastructure to become interoperable and interconnected will allow banks with agile approach to synergize with fintech startups to capture this enormous opportunity immediately and contribute to the growth of digital economy from USD 8 billion in 2015 to USD 80 billion in 2025.
Around 95 percent of the transactions in Indonesia are still cash based and the rest five percent of the transactions are through non-cash, as a comparison Singapore's non-cash transactions accounted for more than 60 percent. The obstacles include high unbanked population, undeveloped and fragmented payment infrastructure, and low trust in the electronic payments. Currently banks and their payment networks are disrupted by technology firms which provide e-wallets or gateway services. E-wallets from technology firms (such as Go-Pay from Go-Jek) or from Teleco companies (such as t-Cash from Telkomsel) now are included in the top five of non-cash preferred instruments in Indonesia. For Micro and Small Medium Enterprises (MSMEs) this development will increase the efficiency of the transactions, increase their customer's loyalty, and will provide a better customer experience that lead to a better business productivity. With around 60 million MSMEs in Indonesia that represent close to 60 percent of Gross Domestic Product, this kind of innovation will surely contribute to the economic growth. Whilst for the customers, the ability to transact anytime and anywhere will provide a cheaper and better payment experience. Hence we are seeing a shift from cash, as well as credit and debit card payments, to e-wallets and other alternative payment methods as the end game in Indonesia.
The important role of regulator
The central payments infrastructure is not currently fully interoperable and interconnected.
Developing mobile payments is believed to be the most reasonable strategy as Indonesia appears to be on the verge of a cashless payments era

The new Central Bank regulation in creating a national payment gateway ("NPG") will accelerate the adoption of electronic payments in Indonesia. The regulatory focus is on debit card inter-connectivity first, then internet based services and credit cards. In 2018 it is planned that NPG scope will be widened by covering the electronic bills and invoices, internet-based services, mobile-banking, and e-commerce.

This ecosystem will ensure the transactions being processed are efficient, secure, as well as bring down the transaction costs. It will also aim to facilitate government's initiatives such as increasing the cashless acceptance, distributing the non-cash social services, receiving the non-cash government's income, financial inclusion, and national e-commerce.

Once the central payment infrastructure is interoperable and interconnected, then the focus can be shifted to build a bigger cashless society. One of the most effective strategies is by not giving an option to use cash at all, for example starting October 2017 all highway payments in Indonesia must use e-Money at the tollbooth, or later on the payment of gasoline in fuel station.

So, how banks will contribute to this latest development?

There are five needs of customers in opening a relationship with their retail bank: transactional, saving, borrowing, investment, and protection. Payments to support the transactional need is undoubtedly on top of the whole food chain. Currently in Indonesia there are multiple e-wallets and gateways, but no outright leader has emerged because firstly they need to build their own ecosystem to facilitate payments between customers and merchants.

Thus the user experience is not so good right now, for example there is no cross platform wallet or gateway, as online payment requires to redirect away from the merchant site and login to the e-wallet or gateway, and customers must add credit to an account before they can transact. This means increasing the financial literacy and inclusion should still be continued as key priority, banks play major parts as the first touch point to the customers. Thus the onboarding process should be made seamless and easy.

Fintech companies are usually strong at technology and applications, but they are mostly inexperienced in financial sector operations, therefore to completely replace the traditional financial sector is difficult. The most ideal development for fintech companies is to collaborate with banks. While still focusing on their own business, the banks could introduce fintech technologies through acquisitions or paid services.

Conclusion

The opportunities in cashless payments in Indonesia is massive. The underlying demographic and economic drivers point towards a rapid shift from cash based payments to alternative payments through mobile devices, thus developing mobile payment is believed to be the most reasonable strategy as Indonesia appears to be on the verge of a cashless payments era. The regulatory driven consolidation of the various interbank switching networks to deliver on interoperability and reduce transaction costs is supportive to the above strategy, and in order to reach a wider audience especially to the massive number of unbanked population in Indonesia a synergy between banks and fintech companies will be one of the catalysts.
See Also: