Digitization: The Way Forward
By Richard Suhr, Global Digital Lead, Advisory, EY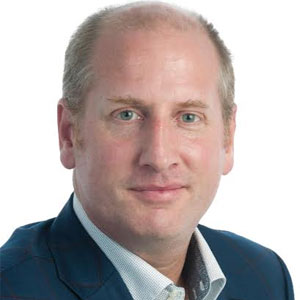 Richard Suhr, Global Digital Lead, Advisory, EY
Q.In a recent interview with Spark Digital, NZ, you said that the most prevalent current market trend is 'digitizing' what we have today. Could you draw us a picture of where enterprises stand in this journey, and what challenges do individuals as leaders of digitization for their organization?
For CEOs and board members, it's no longer enough to have a digital strategy – it's about your business strategy in a digital world.
Enterprises today operate in an almost constant state of emergence, and they have to evolve at a speed that matches the pace of digital technology adoption, with new business models, and new competitors that arise constantly. The secret to managing that change is to be pragmatic about investing in change that will generate return to the current business, but also manage a portfolio of future investment that will enable tomorrow. Differential investment is now the new imperative for C-suite and D-suite, and having a structured portfolio approach to innovation is a key part of corporate digital governance.
The biggest challenge for most of our clients is making sure that these investments can impact the balance sheet today, so that they preserve short-term shareholder value alongside innovation strategies. So, how do the leaders of digitization move forward? Firstly, they have to prioritize and focus on those areas that have the most immediate and critical impact on their business. Areas like automation, AI, machine learning, and cognitive experience are good examples of innovation and digital disruption that can enable returns or costs savings in the near-term. The key question here is: "Are they digitizing what they have today?" Let's look at just two challenges clients are facing: Customer experience and Data.
We all know that the way customers experience a company is as important as the company's products and services. That's been the mantra of businesses – at least, the successful ones – for centuries. Most enterprises know they should be doing more with digital — particularly when it comes to the customer experience.
Enterprises today must create and constantly improve on a consistent, high-quality customer experience. Never before has it been as easy for customers to move their business, to find new methods of delivery and service, to divide their share of mind, and share of wallet as they see fit.
To make sure they deliver a consistently great experience, enterprises must design those experiences to be customer-first, highly personalized, and mutually rewarding. And these days, a great experience is most often defined by how unique it can be made to each individual. That focus on the individual means the design and delivery of the customer experience is ultimately about using what we know – digitizing what they have – to deliver the best experience at the right time and through the right channel.
Rapid technological advances mean sectors are blurring and combining, which impacts every part of the enterprise
This is an exercise in analytics and data; it requires a clear, focused, and accurate analysis of the dozens of customer touchpoints that you have created or could potentially create.
It's also an opportunity to look at blending traditional back-office transformation and asset management, with new technology solutions. A modern digital program around customer experience will include, for example, looking at ways to leverage RPA, AI, and analytics to radically reduce the complexity and processing time of all of the customer process -- not just the digital channel experience. We are seeing more and more clients begin to challenge the funding model for their digital transformation by looking to extract value from their largest back office processes – including finance, claims processing, settlement, payments, and more.
Digitizing those processes with disruptive new technology and digital process transformation is the financially responsible way for C-suite and D-Suite to drive an end-to-end transformation without over-capitalizing.
That brings me to another major challenge for enterprises: Data. You may have seen the statistic that 90 percent of the data in the world has been created in the last two years alone. What is simply astonishing is that only 0.05 percent of all data is ever analyzed and used to drive decision-making. We work with enterprises all over the world, and we know that businesses of all sizes that consistently use data analytics are outperforming those that do not. This is because deep analysis of data patterns and trends supports innovation and objective, strategic decision-making. It also encourages the efficient use of time and money.
Some assume that analytics is predominantly the domain of the sales and distribution functions within a business because it offers insight into customer behavior and purchasing decisions. But it can also enhance the performance of other functions such as talent management, where businesses can use the data they gather from recruitment interviews, employee surveys, exit interviews, and benefits updates to personalize and refine their compensation, recruitment, and retention strategies.
Q. What are the main impetus points that substantiate the necessity for organizations to adopt digitization at faster and faster rates?
Businesses are operating in an environment where long-held assumptions are in doubt. Rapid technological advances mean sectors are blurring and combining, which impacts every part of the enterprise, from strategy through to the back office, and even the way financial audits are conducted. Capabilities in digital, analytics, cyber security, strategy, technology, and change management are all in very high demand.
Similarly, in recent years technologies such as artificial intelligence and machine learning, cloud computing, ubiquitous sensors, and high-powered analytics have become far better and far cheaper. So the number of applications for each has exploded, and these technologies are being combined in new and powerful ways.
These rapid technological advances mean that traditional sector labels mean less and less to enterprises and their competitors. Technology companies used to be technology companies, competing with other technology companies – now, every company is, and must be, a technology company.
The key to extracting value from these technology shifts is being able to link the initiative to real return.
Embracing real digital transformation outcomes means managing a balanced set of investments across core platforms, agile projects, and new innovations.
Understanding how to manage that portfolio approach to technology investment, and challenging programmes to integrate business and technology outcomes is a new approach for many clients, and often requires a change to their existing governance and return models.