Adaptation to Changing Trends: Solution to Stay Relevant
By Makoto Shibata, Principal Analyst and Head of Global Innovation Team, Mitsubishi UFJ Financial Group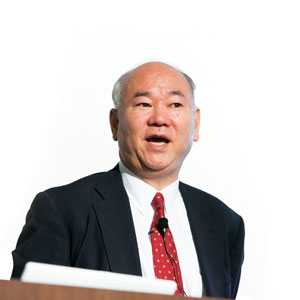 Makoto Shibata, Principal Analyst and Head of Global Innovation Team, Mitsubishi UFJ Financial Group
An industry veteran, Makoto Shibata, has been in the banking space for more than three decades, with 20 years of them in digital banking. Having in-depth experience in different areas such as corporate banking, retail banking, and accounting, Shibata has played an invaluable role in Mitsubishi UFJ Financial Group's (MUFG) ventures in online banking, mobile banking, and fintech since 1998. In this interview, Shibata talks about the evolution of the industry over the years and some of the crucial aspects that fintech, banking, and finance enterprises need to address for staying relevant in today's era of tech explosion.
With digital advancement, data security has become the top priority. Shibata explains how the financial enterprises fall victim to digitalized threats and pitfalls. Overlooking the simplest change in industrial principles, organizations lose market in this cutthroat competition of online transformation. Shibata gives a thorough report of the risks and the solutions that financial enterprises should always acknowledge. Advicing that customer is the key and customer satisfaction is the chief protocol that every organization should follow.
Evolution of Digital Banking and Fintech over the years
The rate of change in the fintech industry has greatly escalated over the years, and so have the disruptions in the space. This has been fuelled by the rapid transformation in customer behavior— what they need and what they expect in the current era. Earlier, these transformations were not geographically uniform; Asian countries usually followed the West within a period of six months or a year. But, now these changes are almost simultaneous. One domain in the fintech industry that reflects this is the payments sector. From cash-based systems, the consumer world, from China and India to the US, is rapidly adopting mobile and online payment modes at the same time. In addition, potential risks have also enhanced by manifolds from the aspect of data breaches, illegal transactions, and more. Hence, firms need to calculate their steps carefully. They need to be aware of the risks and fast adapt to the industrial transformations in order to remain relevant.
Adapting to the Common Industrial Trends
Financial institutions need to adopt the route of increment and enhancement.
Financial enterprises should be able to comprehend the real issues of customers, predict what they need, and never stop adapting to newer trends

For instance, firms should always focus on increasing customer relationships and user experience to understand their necessities and update themselves accordingly. However, improving existing systems is one a part of the whole picture. In not so far future, the companies that seamlessly adopt disruptive technologies like data analytics, AI, and blockchain would stand out and lead the industry in this competitive era. Firms need to continually innovate and enhance their capabilities keeping in mind what the customers require at the very fundamental levels, both from the current as well as the future perspective.

The Scope of Risk for Financial Organizations

The scope of risk for businesses is also expanding at a rapid pace. As market transformations are occurring at break-neck speeds, much faster than before, financial institutions who are late in offering their services and products and don't continually adapt to the changes face the risk of losing market space. On the other hand, cybersecurity is a very critical area and firms need to worry a lot more today about the scope of threats that cybersecurity presents to the financial industry. With the rise of mobility, customers are more engaging in transactions from their own devices instead of going to banks physically. Thus, these organizations have now lesser control over the processes and they need to balance their products and services so that they are both innovative and also secure. Apart from making solutions threat-proof, financial institutions also need to make its customers more risk-aware in order to really move towards a secure digital finance world.

Personalization: Enroute to Understanding Client Needs

Precision to address the individualistic needs of every consumer segment, or even one customer, is very necessary for any financial enterprise. Hence, services and solutions need to be tailor-made according to precise customer requirements. For large organizations, catering to a wide consumer base, there should be some options in the offered solution so that a particular customer can either integrate their existing systems or add things that they would prefer to use. This technically helps personalize the solution a lot more. For instance, for a lot of smartphone applications, customers might have different queries and might feel irritated if there's no sufficient assistance from the service professionals. One way would be to automate that and build an interface so that consumers might get the answers they are looking for, essentially helping both the customer as well as the firm by offloading unnecessary burdens.

A Piece of Advice for Financial Organizations

Comprehending what exactly customers require is a much more difficult task than it seems to be. This is not solved through traditional feedback systems and their experience highlights this better. When AR solution on smartphone was introduced to help its customers find branch and ATM locations, few customers used the live service even though many replied as "cool" and "exciting" in the survey before the launch. Most customers actually felt it was easier to search locations by the traditional GPS-based maps and did not bother to activate the AR solution. As reflected from the incident, it's quite evident that knowing "nice to have" is different from understanding "must have," and hence it's complicated to assess what customers actually want. In essence, irrespective of the complexities, financial enterprises should be able to comprehend the real issues of customers, predict what they need, and never stop adapting to newer trends. This is the secret to success in the long run.
See Also: