Borderless World of Payment with Blockchain
By Prasanna Lohar, Chief Innovation Officer, DCB Bank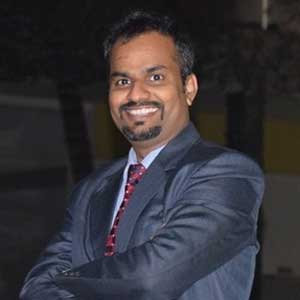 Prasanna Lohar, Chief Innovation Officer, DCB Bank
Chapter 1 Brief
Forty years ago, the queen of England became one of the first individuals, and the first head of state, to transmit real-time electronic data over national borders. In 1976, just three years after the United States connected ARPANET to London's University College and the Royal Radar Establishment in Norway, Her Majesty Queen Elizabeth II sent an email under the username "HME2."
Today over 3.2 billion people across the world have access to the Internet, and the flow of digital communication between countries, companies, and citizens, as a component of the "knowledge economy," has been recognized for years as a critical driver of economic growth and productivity.
Countries adept at fostering digital activity have witnessed the emergence of new industries as well as the accelerated development of traditional sectors. However, despite the intensive and extensive growth of the global Internet, concerns over growing barriers to digital flows are mounting.
Chapter 2 Cross Border Payment
Payments have been a critical part of the daily lives of individuals, businesses and governments for over two millennia—from the first coin minted around 600 BC, which steadily replaced barter and exchange, to the rise of the cryptocurrencies that capture headlines today. The history of payments is characterized by constant technological and societal change, as well as by increasing indispensability to economic activity.
The amount of data flowing between countries has grown 45 times larger in the last decade and now has a bigger impact on GDP growth than traditional trade in goods. The World Economic Forum estimates 10 percent of the global GDP to be stored using blockchain by 2027.
Banks and financial institutions are traditionally conservative in the adoption of new technology. Innovations in the financial world are generally to solve a problem or pain point, rather than to replace systems that work fine.
Current Cross-border payments face several obstacles, such as:
1. Reliance on banks on uncertain and fluid correspondent relationships.
2. Poor customer service in the hands of such unknown third-party correspondents.
3. Opaque processes or lack of transparency in key points of the transaction lifecycle.
4. Delays, which are unfitting for today's fast-paced world. It takes up to five business days for payments to be completed.
5. Increasing regulatory burden on intermediary banks in the wake of several high profile scams and heists in the industry in recent times.
6. High costs to complete the process, including paying several intermediaries in the mix.
7. High costs and Forex risks of holding funds in Nostro accounts, to complete settlements.
8. It's very important and critical now to optimize current Cross Border Payment Process.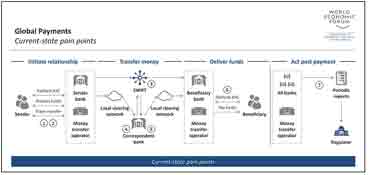 Chapter 3 Introducing Blockchain
Think of blockchain as a new layer on top of the Internet. To analogize it to the web, the World Wide Web was the first layer that became available on top of the Internet. First we had the Internet—before the web. The Internet was just the network connecting computers. The web came along a few years later and was about putting content on the Internet that was easy to visualize, publish on, move and share. Then we started to do more things like ecommerce, communication and being more social on it. But the blockchain arrives now and is a new layer that goes on top of the Internet. It doesn't need the World Wide Web. If you download the OpenBazaar client, it doesn't need the web. It sits right on the Internet.
There is more to blockchain than moving money. In the recent days, the country has seen a dramatic increase in blockchain adoption/awareness and the government's openness to the technology can translate to a lenient regulatory view towards the
blockchain technology
.
Blockchain has potential to transform our lives through its benefits viz. faster settlement times that are user-optimized, lower collateral requirements and counterparty risk, improved contractual term performance, greater transparency for regulatory reporting, better capital optimization, reduction of operating costs and its incorruptible.
Recent trend is towards collaboration i.e. partnerships between competitive banks, technology companies, fintech and regulators that bring benefits to consumers and the financial system. Collaboration among these driving force will bring on multiple innovative and cost effective use cases e.g. clearing and settlement, payments, smart assets, identity management, data management and data protection, AML and KYC, governance, sharing economy in Indian Banking Sector!
Chapter 4 Cross Border Payment with Blockchain
While the debate continues over the use of cryptocurrency like bitcoin as a legitimate way to make payments, blockchain steadily advances into the world of payments behind the scenes to change the transaction environment.
Blockchain can improve the security, speed and cost of each payment that has more companies looking for ways to innovate through the addition of this technology

Blockchain has been garnering significant attention across industries, with venture capitalists investing over USD1.4bn in the technology in the past three years. The World Economic Forum estimates 10 percent of the global GDP to be stored using blockchain by 2027.

The use of blockchain in cross border remittances is witnessing huge traction. Over 90 central banks along with financial service firms, technology companies, trade associations and regulators are either investing or partnering with FinTech firms to explore platforms such as Ripple and R3.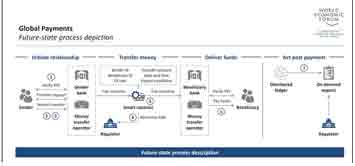 Blockchain is bringing cost and efficiency benefits in cross border remittances, as it removes the multiple intermediaries involved in the traditional process. The technology refines the processes across all the phases of remittance—first mile, money transfer processing and settlement and the last mile.

A payment refers to the process of transferring value from one individual or organization to another in exchange for goods, services or the fulfillment of a legal obligation. Global payments are an expansion of that concept, in which payments can be completed across geographical borders through multiple fiat currencies.

Current‐state Pain Points

1. Inefficient Onboarding: information about the sender and beneficiary is collected via manual and repetitive business processes.
2. Vulnerable KYC: limited control exists over the veracity of information and supporting documentation, with various maturity levels across institutions.
3. Cost and delay payments are costly and time consuming depending on route.
4. Error Prone: information is validated per bank/ transaction, resulting in high rejection rate.
5. Liquidity requirement: banks must hold funds in Nostro accounts, resulting in opportunity and hedging costs.
6. Demanding Regulatory Compliance: similar to #2, limited control exists over the veracity of information and supporting documentation, with various maturity levels across institutions.
7. Demanding regulatory compliance: due to various data sources and channels or origination, regulatory reports can require costly technology capabilities in addition to complex business processes (often supported by multiple operation teams).

Future‐state Process Depiction

The focus of this use case is on low value-high volume payments from an individual/business to an individual via banks or money transfer operators. These transfers are more commonly known as remittances.

1. Trust between the sender and a bank or money transfer operator is established either via traditional KYC or a digital identity profile.
2. A smart contract encapsulates the obligation to transfer funds between sender and beneficiary.
3. The currency conversion is facilitated through liquidity providers on the ledger.
4. The regulator can monitor transactions in real time and receive specific AML alerts through a smart contract.
5. A smart contract enables the real-time transfer of funds with minimal fees and guaranteed delivery without the need for correspondent bank(s).
6. Funds are deposited automatically to the beneficiary account via a smart contract or made available for pickup after verifying KYC.
7. The transaction history is available on the ledger and can be continuously reviewed by regulators.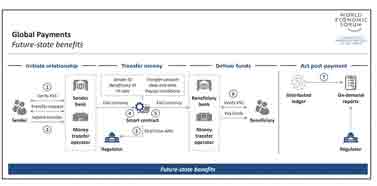 Blockchain based Future-state Process Description

1. Seamless KYC: leveraging the digital profile stored on DLT establishes trust and authenticates the sender.
2. FX Liquidity Capabilities: through smart contracts, foreign exchange can be sourced from participants willing to facilitate the conversion of fiat currencies.
3. Real‐time AML: regulators will have access to transaction data and can receive specific alerts based on predefined conditions.
4. Reduced Settlement Time: cross‐border payments can be completed in real time.
5. Cost Savings: with fewer participants, the improved cost structure can generate value.
6. Seamless KYC: leveraging the digital profile stored on DLT establishes trust and authenticates the beneficiary.
7. Automated Compliance: the regulator will have on‐demand access to the complete transaction history over the ledger.

Chapter 5 Bottom-line

With the initial hype surrounding blockchain beginning to wane, more companies are developing solid use cases and exploring opportunities for blockchain commercialization. Indeed, a few early adopters are even pushing PoCs into full production. Though a lack of standardization in technology and skills may present short-term challenges, expect broader adoption of blockchain to advance steadily in the coming years as companies push beyond these obstacles and work toward integrating and coordinating multiple blockchain within a single value chain.

1. Focus Blockchain development resources on use cases with a clear path to commercialization.
2. Push for standardization in technology, business processes, and talent skillsets.
3. Work to integrate and coordinate multiple Blockchain within a value chain.

2019 could be the year in which organizations take foundational steps toward commercializing their Blockchain solutions. The many experimental PoCs observed throughout the global marketplace served the important purpose of helping us learn what it takes for Blockchain to move forward; now is the time to seize these learnings and take Blockchain live.

It's the idea that Blockchain can improve the security, speed and cost of each payment that has more companies looking for ways to innovate through the addition of this technology. Cross-border payments using Blockchain is an excellent example of new payment innovations. The future is borderless with Blockchain!

Thus, with its increasing presence across the process of remittance, Blockchain is expected to achieve the World Bank's target of average remittance cost of five percent. However, its successful implementation is dependent on collaboration among industry participants.
See Also: