Agile Banking Powered by Fintech
By Henry Ma, EVP & CIO, WeBank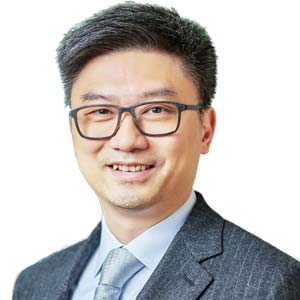 Henry Ma, EVP & CIO, WeBank
With the emergence of internet technologies and the increasingly demanding service standards instilled by younger generations of consumers, business practices across many industries have undergone substantial changes. Take banking for example—customers no longer are willing to sneak out of their offices during work hours to wait at the queue of their bank branches to be served; instead, they now demand services be provided "anytime, anywhere". The rise of those tech-savvy internet platforms may offer some insights for incumbent banks looking to transform their businesses: for any business to stay competitive in their respective market, they must go from offering services "based on one's capabilities" to "based on customers' needs". It is hence imperative that the banks, in a bid to retain their customers, have the capability to quickly detect market movement, to initiate a swift product design environment to incubate new ideas, and to agilely introduce innovative products that befit new demands.
Incumbent banks often carry an inherited burden in the form of rigid organization structures, legacy technology architectures, and outdated products. They usually have a very structured organization with many clearly defined levels of authority and with different departments operating in silos. They also heavily rely on third-party technologies and on cumbersome processes in developing new products. It is also a norm for incumbent banks to serve their customers within their closed environment that they often overlook the need to collaborate with other industry partners to offer context-based solutions for their customers. All these issues effectively create major hurdles for the further growth of incumbent banks, adding to the many challenges on the road toward agile banking.
Whilst it is generally seen as a monumental task to change the existing organizational structure, there is in fact another way to help the incumbent banks to become more agile: leveraging fintech to 'modernize' their technology architecture and product offering. The essence of fintech lies in incorporating innovative technologies into financial services, and in the case of agile banking, the so-called "ABCD" of fintech capabilities can be deployed across different stages:
• AI
can be regarded as the brain behind any automation and can effectively replace tedious, time-consuming manual works
• Blockchain
can be utilized to construct a transparent and immutable value network, allowing trustful collaborations to thrive among banks and non-banks
• Cloud Computing
can provide a highly scalable computing architecture to handle ever-increasing transactional needs
• Big Data
techniques can leverage data as the basic ingredients for innovations, identifying new opportunities and reducing inherent risks
By modularizing and standardizing these new technologies into individual components, the banks can patch them together as needed to create new products. This effectively enables an "agile product" offering. As a foundational component, cloud computing infrastructure built according to the distributed architecture paradigm can replace or supplement current centralized architectures and substantially enhance system security, availability, and scalability. Machine learning can also be deployed to automate maintenance. Other innovative technologies such as blockchain can be utilized to transform the traditional single-entity service structure to one that is collaborative and multi-faceted and links different ecosystem partners together to provide seamless services to end customers.
From the current stage of 'Banking without a Bank', the banking industry is slowly but surely moving towards the era of 'Banking as Experiences
WeBank is an avid adopter and deployer of the above technologies and agile methodologies. Through extensive applications of our fintech capabilities (such as remote customer onboarding, customer service bots, big data driven credit and anti-fraud modeling, etc.), WeBank has developed a rich set of financial products serving different customer segments in relative short development cycles, and ride on a robust distributed computing platform capable of handling hundreds of millions of transactions per day. WeBank also actively involves itself in technological consortiums and open-source communities with the aim to develop better technologies which benefit itself as well as the overall industry. The core vision is to create a collaborative ecosystem where business partners, both banks and non-banks, come together to offer end-to-end services to customers.

The above technologies and ideologies are essential to WeBank's early success. WeBank has turned profitable in its second full year of operation, and as of July 2018, only 3.5 years since its establishment, WeBank has already signed up over 80 million customers and boasts an average new product launching cycle of 63 days, with a proud record of 11 days from product ideation to production.

From the current stage of 'Banking without a Bank', the banking industry is slowly but surely moving towards the era of 'Banking as Experiences', wherein the banks, must compete to serve their customers with even more touch points and greater flexibility. This is a good time to start thinking about agile banking, and fintech will certainly aid in the process by eliminating pain points originating from rigid operating hours, fixed physical locations, and long distances. The removal of these limitations can greatly enhance the flow of information and facilitate the timely delivery of seamless services vital to the success of next-generation banking. Coupled with better resource management and simplified organizational structures, financial institutions may yet inch closer towards future-proving themselves by being agile and regain their competitive edge.
See Also: